In the third part of our 3-parts tutorial we will show you how to delist an IPv4 subnet from PBL/SBL Spamhaus, Yahoo spamlisting and SORBS.
In this article you will learn how to delist IPv4 addresses from Spamhaus block lists.
There are five different listings that Spamhaus manage, but we will focus on the main ones: SBL and PBL.
PBL is a Policy Block list. It's not a spam list and if you found your IPv4 address there you don't need to worry about it. The PBL just helps IPv4-networks enforce their Acceptable Use Policy.
How to delist IPv4 addresses from Spamhaus PBL?
If you're the IPv4 network owner, please follow the instruction below. If you're the end-user, you should contact your IPv4 network provider, otherwise you have to delete each IPv4 separately.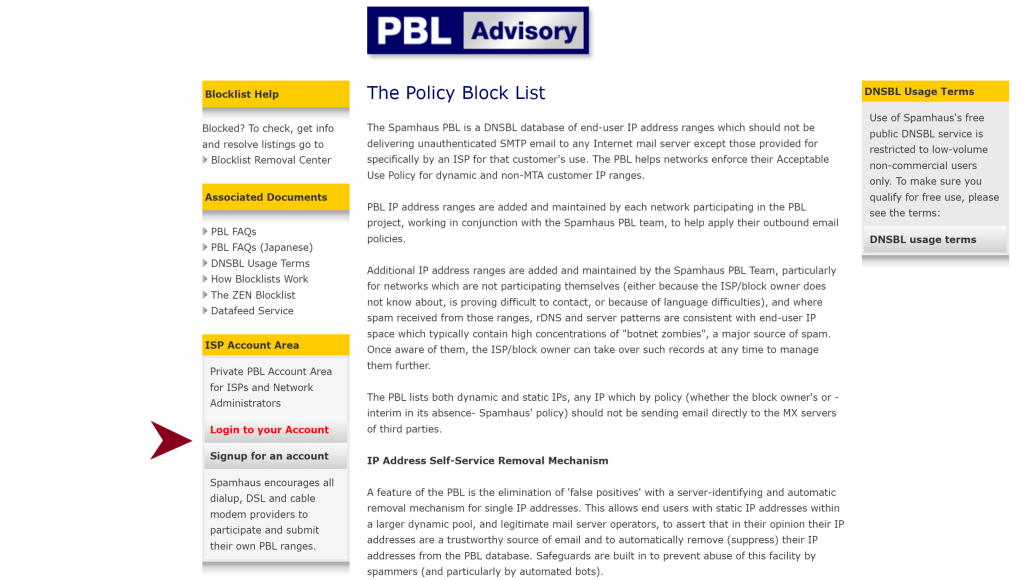 Step 1. Visit Spamhaus PBL website and click Log in to your account (if you have a registered account) or Signup for an account (if you haven't a registered account)
---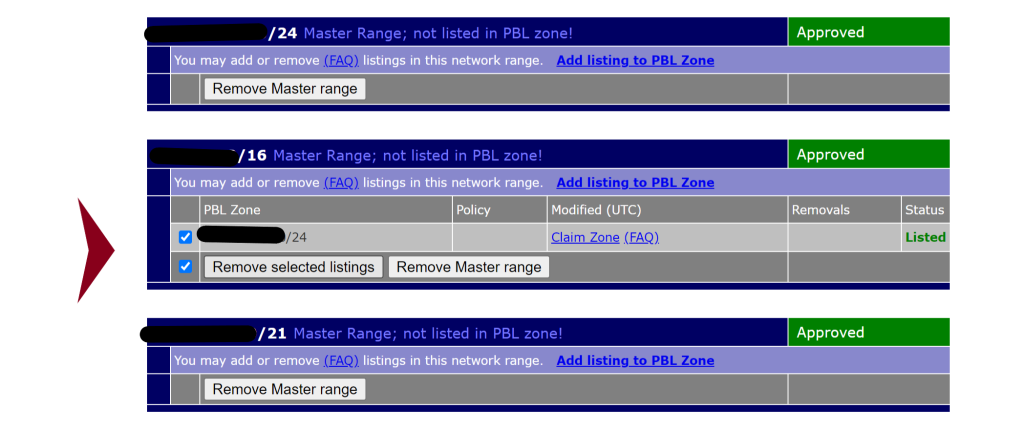 Step 2. After you logged in you will see a list of subnets you manage. Scroll the list until you see PBL record, choose a subnet an click: Remove selected listings.
If you have just registered a new account, log in and then you should add your IPv4 subnets to the created account and only then, after the subnets approval, you will see the same menu and will be able to remove subnets from PBL as it's shown on the screenshot.
That's it. You've now delisted your IPv4 addresses from Spamhaus PBL
---
You're lucky if the whole subnet is in SBL, not separate IP addresses, because in this case you shall only open one ticket on a whole IPv4 subnet to remove it from Spamhaus SBL.
To delist a subnet or IPv4 addresses, please follow the instruction below.
Check your subnet with the following link to get an SBL record ID. If an SBL record is made on a whole subnet, then find a button submit a ticket on the same page and send them a email with the SBL record ID explaining what have you done to protect your subnet and stop violations. We recommend you to delete or replace old routes, RPKI and assignments.
If there's an SBL record on sole IP-addresses, repeat the same procedure for all SBL-listed IP-addresses.
Then you'll get a reply from Spamhaus team if we can delist now it or not.